The digital education concert is live online! Since the beginning of 2021, students across the Valley have enjoyed this 35-minute program of chamber performances featuring every section of the orchestra.


"Our teachers absolutely love the Virtual Education Concert! They love how they can see and show the students the instruments, the music and edits are amazing!"
–McAllen ISD educator

"I've had students asking questions on Google Chat while watching the performances. Students would comment, 'oh that is beautiful!' and 'Whoa!'. Some of them were surprised by the sound of the instruments. They had seen pictures but to hear it was new for some of them." –Donna ISD educator

Education concert participants receive:
Unique access to the digital VSO education concert, which features chamber performances from every section of the orchestra and is hosted with special commentary by Maestro Peter Dabrowski.

An educator guide tailored to this performance, which includes guiding questions and exercises for your class. Educator Guide now available in English and Spanish!

A student guide that you can distribute as part of the educational concerts experience. Student Guide now available in English and Spanish!

Education guides are provided upon registration for your planning convenience.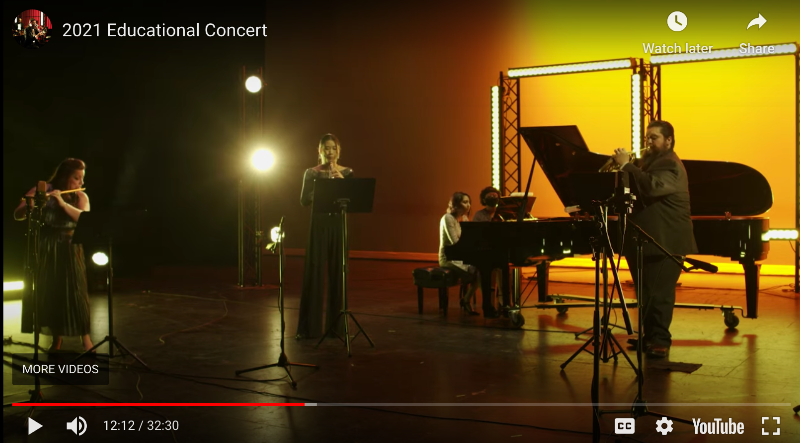 The VSO education concert is easily streamable on Youtube and accessible through the online education concerts portal. Registered participants receive 30-day access to the portal.

Concert Program
Ernő Dohnányi — Piano Quintet No. 1 in C minor, Op. 1 – I. Allegro
Leopold Godowsky — Triakontameron – Old Vienna
Francis Poulenc — Sextet for Woodwinds and Piano, II. Divertissement – Andantino
Dave Hall — Escape VelocityJ
an Koetsier — Brass Quintet, III. Molto Vivace

The state of the art video production of this program allows students to see the performances up-close and in-action.

For a flat fee, you can provide the education concert to all students in a classroom, on a campus, or across your entire district. Learn More

And check out our Youtube Channel, which showcases this year's dynamic digital performances. All educational concerts content is selected from these online concerts.

Ready to register? Contact Mayra Reyes Romero at mayra.reyes@valleyorchestra.org.